McCoy: Critical & Disrespectful Fans Are "Hilarious"
February 29th, 2016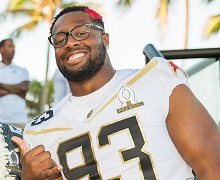 Something riled up Gerald McCoy on Saturday afternoon.
McCoy took to Twitter and had firm messages for Bucs fans, and he grouped them in two categories.
You "fans" who criticize and disrespect us and then shake our hands and ask for pics when you see us are hilarious to me.

— Gerald McCoy (@Geraldini93) February 27, 2016
McCoy went on to laud what he called "real fans."
"You real fans we LOVE you guys. Good or bad you're right there and we love you for it," McCoy Twittered.
Joe knows fans (aka people) can be brutally hateful, especially on social media. Joe has no idea to whom McCoy was referring — whether he was inspired by nice fans or mean fans, though Joe suspects a harshly critical fan got McCoy worked up.
Joe wonders how McCoy defines "disrespect." If it includes a fan sharing an opinion that a player stinks and should be cut or traded, then Joe can't agree with McCoy. If McCoy is referring to fans insulting a player's non-football-related actions or family members, then Joe would agree.