Buccaneers Add Cornerback Josh Robinson
March 14th, 2016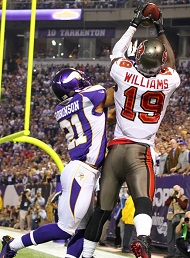 Updated: 3:09 p.m. Here's the critical information on the Buccaneers' new cornerback, Josh Robinson, signed this afternoon, as the Bucs continue to throw chips in the free agency pot.
First, Robinson was on the Vikings last year and didn't play much. He tore a pectoral muscle early this season and then got phased out upon his return.
He's 25 years old and, ironically, was a mid-third-round pick of the 2012 Leslie Frazier regime in Minnesota.
Robinson has 21 career starts in 47 games, and he's played his share of nickel back.
Joe can't say the 5-10 Robinson is an upgrade from Sterling Moore, but certainly this is a quality depth acquisition, assuming Robinson can stay out of the trainers' room.