Bridges And Sinkholes
March 21st, 2016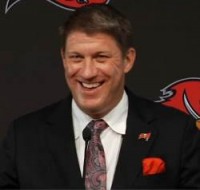 Bucs general manager Jason Licht is buzzing around the NFL Owners meetings in Boca Raton today.
And Licht is enjoying his free agent haul, on the heels of the grand slam of the century.
Joe sees the Custodian of Canton, eye-RAH! Kaufman of The Tampa Tribune,  referencing that Licht has been talking about "bridges," the term Licht uses for old NFL veterans who can be effective players and teachers while the Bucs build through the draft.
Guys like Gosder Cherilus and Logan Mankins were critical in that role last year. And now the Bucs welcome linebacker Daryl Smith, defensive end Robert Ayers and cornerback Brent Grimes, who have played a combined 29 seasons.
It's a great concept, if you pick the right guys with the proper mindset.
Guys like Michael "Ghost" Johnson and Anthony Collins, for example, weren't bridges. They were more like sinkholes.
With the Bucs absolutely certain to draft a defensive end — or two, or three? — Ayers really must be a top-shelf character to have been signed for big bucks and dropped into that defensive line meeting room as the senior member.
Yes, mentoring and leadership is a bit overrated, but guys like Johnson and Collins dragging down entire position groups and the team is very serious.