Is Jason Licht Due For A Slide?
February 24th, 2016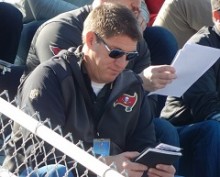 Joe believes in the drafting of Bucs general manager Jason Licht.
The man just belted a grand slam. Team Glazer should erect a statue of him on Himes Avenue for that alone.
But what's somewhat chilling about Licht's success last year is the law of averages working against him. This week on SiriusXM NFL Radio, Hall of Fame general manager Bill Polian talked about his career of draft picks. Polian did the math and said only 56 percent of his picks panned out. The remainder were busts.
So 56 percent got the guy in the Hall of Fame. Of course, it helped to have Hall of Fame quarterbacks like Peyton Manning and Jim Kelly.
But the greater point is that drafting is very difficult science. Nailing half your picks is good work, especially when you hit on the early-round picks.
Licht has defied a lot of odds. In a league that has trouble developing offensive linemen, Licht has drafted four to date, and three look pretty good, Donovan Smith and Ali Marpet (2nd rounders), and Kevin Pamphile (fifth round).
Again, Joe has faith in Licht. His draft record is strong. Hopefully, Licht can avoid a slide — and the odds.