Tough Times For Team Glazer
January 3rd, 2016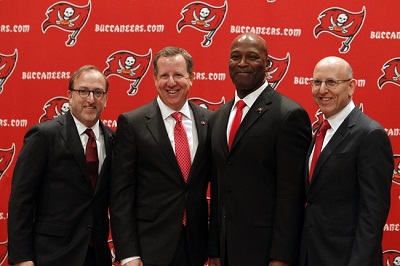 Team Glazer opened its checkbook for big-name players and a big-name head coach. And right now, all they have to show for it is a hot mess of a ball club and grumbling fans, despite the fantastic glow of a franchise quarterback with a legitimate offense around him.
That may sound harsh, but that's the cold reality when your team gets humiliated during the final four weeks of a season, as the Bucs were.
It's not Team Glazer's fault. It's really not. What else are these guys supposed to do?
They hired a defensive-focused head coach that couldn't craft an effective defense in two years — and is committed to his system that isn't working. That's quite a depressing situation for Team Glazer.
Is Team Glazer really confident Lovie Smith can coach his way out of this defensive mess? There is no recent evidence that Lovie can pull it off. There's plenty of evidence he can't.
No. Team Glazer won't drop the axe on Lovie tomorrow. And Joe's stated many times that Lovie deserves massive kudos for his drafting and thorough handling of America's Quarterback, Jameis Winston. Loads of head coaches would have screwed that up.
But that doesn't mean Team Glazer is in a happy place. These are brutal times for ownership, as they preside over a fifth consecutive last-place finish.