More Hysterical Team Glazer Bashing
January 11th, 2016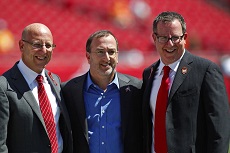 Joe doesn't understand why some people expect fish to fly and birds to swim.
This is basically what it comes down to, almost in a childish rant, for those who demand Team Glazer show up to talk publicly about firing Lovie Smith.
Hello, Jason Licht already explained it. In detail.
What, Team Glazer regurgitating what Licht said will somehow make Lovie return as coach for the midwives and apologists and sycophants who have been bawling in a towel for poor Lovie (who has a $10 million parachute paid for by Team Glazer, Joe might add)?
This just in: Team Glazer, uncomfortable in the public spotlight, speaks once a year (at the spring NFL owners meetings) or sometimes twice a year (an appearance during training camp). Demanding they be Jerry Jones is like asking President Obama to be a champion of the Second Amendment, or socialist Pope Francis to be a vocal supporter of Planned Parenthood. C'mon!
What exactly is Team Glazer going to change by standing up and repeating Licht's answers? Nothing, that's what.
This just in: Team Glazer will be around when the Bucs announce a new coach. They very likely will answer questions then. Calm down.
Pardon Joe, but there's a corrupt clown who married into the Walmart family, a guy hellbent on trying to uproot a franchise from a city willing to pay for a new stadium. And he hasn't make a public appearance there in years — years!
That, friends, is a true outrage, not Team Glazer waiting for a few days to discuss a coaching change.
To watch over-the-top whining, click on the BSPN video below.