Mark Dominik: Koetter Will Be Bucs Head Coach By Wednesday
January 11th, 2016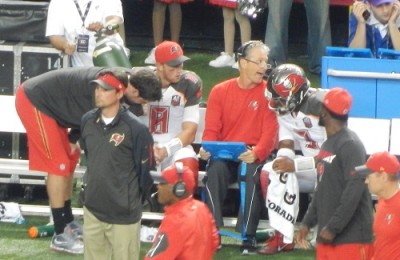 Updated: 7:29 a.m. Former Bucs rockstar general manager Mark Dominik was hard at work on his flourishing media career this evening on SiriusXM NFL Radio.
Dominik was firing away live on all things NFL for a solid three-hour clip with radio veteran Zig Fracassi until midnight.
Joe caught a chunk of the show but seems to have missed Dominik belting out a bold proclamation. Per Fracassi's Twitter feed, Dominik said offensive coordinator Dirk Koetter will be named the next Buccaneers head coach no later than Wednesday. Last week, Dominik also said he was confident Koetter would be named to replace Lovie Smith.
Keep in mind members of Dominik's former team still hold key positions at One Buc Palace, from Shelton Quarles to Mike Greenberg.
Updated: Joe was in touch with Dominik this morning, and Dominik stands behind his call. Dominik says he is not basing it on insider information, just a gut assessment.