Might Dirk Koetter Battle Mike Smith For Assistants?
January 10th, 2016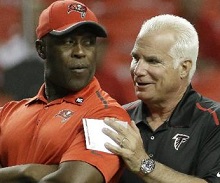 Super NFL insider Ian Rapoport of NFL Network is all over the numerous ongoing head coaching searches.
In this video, he explains that the Giants want an experienced head coach and appear to be narrowing their list to Doug Marrone and Mike Smith, who will interview with New York tomorrow. (What about Lovie Smith?)
It's intriguing that Mike Smith is the guy who hired Bucs' offensive coordinator and prime head coaching candidate Dirk Koetter to be his OC in Atlanta. Before that, Smith was defensive coordinator in Jacksonville (2003-2007) under Jags head coach Jack Del Rio (2003-2011). Koetter was hired by Del Rio to be his OC (2007-2011).
The point is that Koetter and Smith are close and have worked on two staffs together. That means they likely have many of the same assistant coaches in mind.
What happens if the Giants hire Smith and the Bucs haven't hired Koetter? That likely would deal a blow Koetter's potential Tampa Bay staff.
Team Glazer and Jason Licht have an awful lot to consider as they compete with Cleveland, Tennessee, Philadelphia, New York and San Francisco for a head coach.