Lovie's Seven Deadly Sins
January 7th, 2016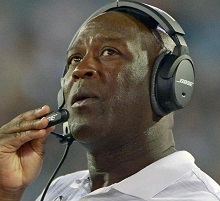 A detailed, biblical explanation — for those in disbelief this morning.
Lust: Mike "Toast" Jenkins gets the nod here. With his career on the line against the Panthers, Lovie started Mike Jenkins at cornerback. Jenkins was a wacky signing out of the gate, a washed up football player when Lovie brought him to Tampa with pure lust in his eyes. On opening day of 2014, Jenkins had a serious injury while getting toasted in the end zone. So what does Lovie do? He brings him back to continue the bizarre bromance.
Gluttony: Hello, Josh McCown. Lovie was so darn selfish, so darn eager to stuff his face with his favorite comfort food when he got the job. McCown already was historically dreadful, and old. Yet Lovie didn't care one bit that the Bucs had a better QB on the roster and were in position to launch their regime by drafting a starting QB.
Greed: No, no, no, said Lovie. All that money for Darrelle Revis, a Hall of Famer in his prime, was not acceptable. Lovie wanted to spend it all himself on the likes of Michael Johnson, Alterraun Verner, Josh McCown and Anthony Collins.
Sloth: Too stubborn or too lazy to make changes, Lovie was disinterested in adjusting his ineffective defense. Lovie firmly stood behind his system, defending it vigorously, despite knowing he didn't have the players to run it effectively.
Wrath: This is a tough one to pin on Lovie, but some say extreme anger drives one to self-destructive behavior. See Sloth & Greed.
Envy: Man, Lovie obsessively wanted anyone familiar with his system. Essentially, Lovie coveted what he used to be, versus getting the most out of what he had — or could have had. This was shocking, considering Lovie claimed his staff was filled with "stern teachers." Joe's got five names for you: Bruce Carter, Sterling Moore, Henry Melton, Chris Conte and Tim Jennings.
Pride: Simple as that.