Koetter Determined To Dodge Spotlight
January 7th, 2016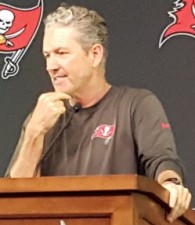 Fans are aching for information on the future of offensive coordinator Dirk Koetter. Folks, there's a reason you've heard nothing from Koetter or his camp.
Joe has a pipeline to Koetter, and his camp has been determined for many days to not thrust Koetter's opportunities into the spotlight. It's just the way Koetter wants to do things.
Joe respects the class.
This morning, Alex Marvez of FOXSports.com and SiriusXM NFL Radio, is Tweeting that the Eagles plan two make an official request to interview Koetter to the Bucs, a courtesy move between teams. Per Marvez, the Dolphins and 49ers already have.
Koetter is in demand, and there's certainly interest in him at One Buc Palace.
Look for things to move very quickly on Koetter. You're just not going to get the details you're seeking.