Indicting Lovie For Bad Coaching
January 5th, 2016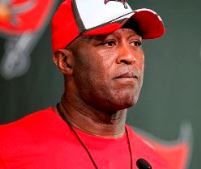 America's Quarterback, Jameis Winston, passionately called Lovie Smith "an amazing coach" on Sunday night.
But Jameis also poured his heart out saying too much of Lovie's team has the wrong mentality, including their "whys," as in they don't know why they come to work each day.
Raw, unleashed Jameis didn't mean to slap his head coach, but that's exactly what he did.
The essence of coaching, even more important than getting the most out of your available talent, is to get players on the same page with a singular and direct focus. Lovie has not done it — in two full NFL seasons. (He hasn't gotten the most out of his talent, either.)
Jameis, just 21-years-old can see Lovie's failure to unite the Bucs, and it feels like that failure has been simmering within Jameis for weeks.
On Sunday and Monday, Jameis said he believes he is the one to galvanize the roster and teach it how to seize a football game and "want it" more than an opponent.
God Bless, Jameis. But the guy shouldn't be taking on head coaching duties.
Lovie loves claiming his staff is full of "stern teachers," yet Lovie admits the teaching hasn't gotten through. Players, per Lovie, have tuned out the teaching on penalties and too much defensive education didn't get through. Lovie admits all that.
But what too often gets ignored is Lovie's responsibility for failing to instill a winning attitude, a winning approach to every play.
It's Lovie's greatest failure.
Ironically, the greatest Tampa Bay coaching strength of Lovie's mentor, Father Dungy, was instilling that winning approach. Dungy had questionable Xs and Os philosophies, but you never heard Dungy teams skewered for not understanding why they come to work every day.