Dirk Koetter Rumors And Reality
January 5th, 2016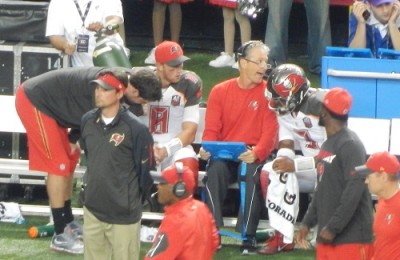 Good guy Alex Marvez of FOXSports.com and SiriusXM NFL Radio has Twittered that the Eagles are thinking about Bucs offensive coordinator Dirk Koetter as a possible head coach candidate.
Joe also thinks about Rachel Watson joining Joe for a weekend of lambada dancing in Key Largo.
Joe's point here is that there's no reason to jump to all kinds of conclusions. Marvez didn't say Koetter was scheduled for an interview. Anything claim but that is just hot air until an interview is on the table.
Also, Joe thinks it is clear that Koetter and his team aren't interested in crafting a PR campaign to get Koetter's name all over the place and drive public interest in him as a head coaching candidate. (See Adam Gase, whose resumé does not compare to Koetter's).
Does Koetter want to leave for a head coaching gig? Koetter has had every opportunity to say, "No." Joe set him up with that question a few weeks ago. Here was Koetter's response:
Koetter has interviewed for NFL head coaching gigs in previous seasons, and now he's led three franchises — and three quarterbacks — to a top-10-ranked offense. That feat hasn't been accomplished, to the best of Joe's research, since the late Ed Hughes, whose last top-10 offense was with the dominant Bears of the 1980s.
Look for the Koetter chatter to keep swirling. Team Glazer likely has the power to end it, if they reached out to Koetter with an attractive extension and raise.