Ex-Buc Gives "C" Grade To Lovie
January 2nd, 2016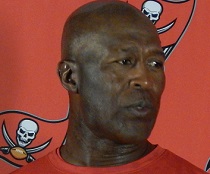 Only about one-third of Bucs fans surveyed claim to be confident in Lovie Smith.
But what kind of grade would they give Lovie for the 2015 season to date?
Former Lovie coaching intern (2014) and Bucs defensive end Steve White (1996-2001) was asked to grade Lovie after 15 games this season, during his latest visit to Ronnie & TKras on WDAE-AM 620.
White explained that he would give Lovie a "C." Expectations on Lovie widely were raised when the team moved to a 6-6 record, White explained, but ultimately, the Bucs are what most believed they would be after 15 games: a six-win team. White said the defense is improved, though facing personnel issues that the regime has struggled to fix in past offseasons.
The Bucs had a positive offensive revolution this season, White said, and Jameis Winston has been strong but might have hit a rookie wall after 12 games.
Joe wouldn't be comfortable grading Lovie for this season with one game remaining. With Lovie playing his key starters and claiming he's going all out to win, Joe wants to see the Bucs show up and compete tomorrow. That game will have an impact on Joe's season grade.
You can hear all of Steve White's latest Bucs breakdown below, via the 620wdae.com player.