Bucs, Martin In Talks
January 1st, 2016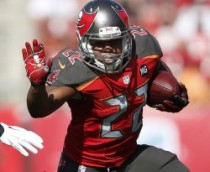 Bucs fans have sweated over whether soon-to-be free agent Doug Martin will play with Tampa Bay next year.
The Bucs don't plan to wait and see. Per Woody Cummings of The Tampa Tribune, both parties have launched negotiations on a new pact.
Martin and Bucs general manager Jason Licht have acknowledged that discussions designed to keep Martin from hitting the free-agent market already have begun.

"We've already talked a little bit,'' Licht said. "We will definitely be talking (more). We'd love to have Doug back.''
The Bucs, frankly, have the hammer here. At worst, Martin can be slapped with a franchise tag.
Joe isn't concerned. One way or another, Joe is confident Martin will return next season.