Top Deer Down
January 2nd, 2016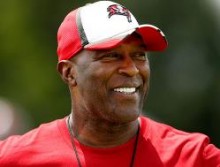 Joe has written many times that opposing teams' receivers run through the Bucs' secondary like proud, strong deer through an Illinois cornfield.
On Sunday, it seems the Panthers will be down their top deer.
Wide receiver Ted Ginn, Jr. (44 catches, 739 yards, 10 touchdowns) hasn't practiced in three days because of a knee injury and is listed as "doubtful" on the Friday injury report.
Panthers head coach Ron Rivera said Ginn's knee "didn't come around" like he had hoped.
Ginn also is the Panthers' punt returner, one of the best in the NFL with a 10.3-yards-per-return average.
The Panthers also will be without their leading rusher, Jonathan Stewart, who has a bad foot. The veteran will fall just short of his first 1,000-yard rushing season since 2009. This year, Stewart has 989 yards on 242 carries. He's missed the last two games.
Joe has no sympathy for the Panthers. Every team has significant injuries this time of year.