"After Practice I'll Go Through Film With Jameis"
January 14th, 2016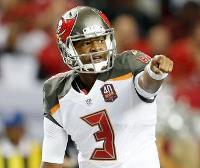 Does anyone tire of glimpsing into the world of America's Quarterback, Jameis Winston?
Joe sure doesn't.
Casey Phillips of Buccaneers.com penned a daily timeline feature on special teams captain/wide receiver Russell Shepard. Hardcore fans will like it, but one particular nugget jumped out at Joe.
3:00 PM: After practice I'll go through film with Jameis, coaches, or other teammates. Then I do some more injury prevention using compression pants or the cold tub.
How bout that. Practice ends, and there's Jameis diving back into film about nine hours into his day, and teammates are seeking him out.