Stop The Bill Walsh Silliness
January 14th, 2016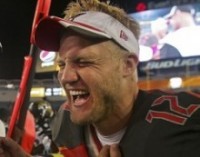 Joe has heard too often lately that the 1979 San Francisco 49ers were 2-14 under first-time NFL head coach Bill Walsh, and then 6-10 in 1980, before winning the Super Bowl in the following year.
The logic claims that because Niners owner Eddie DeBartolo was patient, the Bucs should have been patient with Lovie Smith.
Joe's head is shaking.
DeBartolo took over the Niners and notoriously proclaimed he would run the team like a business in 1977, and he installed a new head coach. That guy was fired after the season. In 1978, DeBartolo hired another head coach, who was gone before the end of the season. And then 47-year-old Walsh was hired for '79.
There was no grand display of patience in building the 49ers' dynasty.
In Walsh's 6-10 season of 1980, the Niners won three of their last five games and were very competitive in the season finale, losing 18-13 to an 11-5 Buffalo Bills team. They didn't collapse like the Bucs did in 2015, while being led by a veteran head coach.
Joe would have brought back Lovie for the 2016 season, but not in any way because it somehow made historical sense.