Yesterday, Today & Tomorrow
December 21st, 2015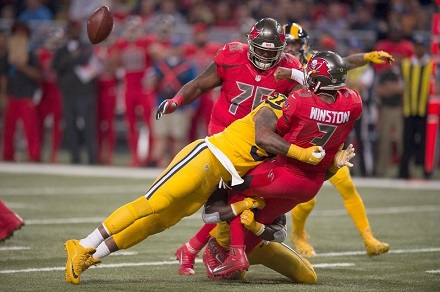 Man, how quickly things change. Largely on the shoulders of America's Quarterback, Bucs signal-caller Jameis Winston, Tampa Bay rallied from a putrid start of the season to get into playoff contention. Then, splat!
Now, the Bucs are playing just like they were playing earlier in the season. Wide receivers running through the secondary like a Kentucky horse put out to stud.  Dumber than dumb penalties. Just undisciplined football.
One would think a team should improve as a season progresses, player smarter, not dumber. But the Bucs are a dumb football team. The amount of penalties (NFL-leading 134) demonstrate this. It is a good thing Lovie won six games and has handled Jameis perfectly in his transition to the NFL. Otherwise, well, you know.
Spinning on Penalties
The excuse Lovie pushes that the Bucs lead the league in dumb penalties because of youth doesn't pass Joe's smell test. Seriously?
Joe would like to know when any football organization from Pop Warner to the NFL actually teaches players to do the dumb things the Bucs do. That's not youth, that's having one's head firmly up his arse. Big difference.
Draft Time
The loss to the rotten Rams makes it time to begin looking forward. But, it was refreshing that we haven't begun draft talk until just before Christmas.
Usually, the draft talk in recent years began before Columbus Day.
Speaking of the draft, highly-touted and (alleged) pothead/defensive tackle Robert Nkemdiche of Ole Miss declared for the draft just hours after he fell out of a fourth-floor window in New Orleans and was pinched for having a bunch of pot on him.
The Bucs don't need a defensive tackle (but do need a defensive lineman), but with this news, expect Nkemdiche to plummet in the draft. Could the Bucs be interested?
Free Agency
Joe has written previously to expect the Bucs to be active in free agency because they have loads of cap space. (Problem is, do you trust Lovie to do the shopping?) It seems the Bills and stud defensive end Mario Williams are at wits end because Williams has b!tched and moaned incessantly about Capt. Lou Albano and his 34 defense.
Williams is a natural 43 defensive end. The Bucs need a defensive end and have money to play with. Florida doesn't have a state income tax and it sure as hell isn't Upstate New York. Hhhmmm?
Thankfully
When is the last time in December you didn't have to sweat on a keyboard wondering when the Bucs will get a quarterback? It's not even a though any more, thank God!
All hail Jameis!
NFL Thoughts:
Jets: There are three teams tied in a race for two wild card sports in the AFC. The Jets are the worst of the three. They had to huff and puff and struggled just to get past the schlock of an offense the Cowboys have, led by the immortal Kellen Moore. Good thing the Jets have a staunch defense, led by a guy Lovie wanted no part of: Darrelle Revis.
Chiefs: The second of three teams fighting for an AFC slot in the postseason. They are on an absolute roll and unlike the Jets, have an offense. Tyvon Branch's 73-yard fumble return was key Sunday in Baltimore.
Steelers: The third of three teams tied in a race for two wild cards, the Steelers at one point trailed Denver 27-10 and ran the table in the second half. Just an awesome display of offense and even more important, a defense which rose to the occasion when Ben Roethlisberger threw a horrible pick late in the game deep in Steelers territory. Joe isn't sure which team is hotter, the Chiefs or the Steelers.
Texans: The immortal Alfred Blue (remember him, Bucs fans?) ran for 107 yards to lead an upset of the Colts. Houston now leads the AFC South with two games remaining.
Dixie Chicks: Atlanta may have saved Dan Quinn's job by beating up on the lowly Jags on the road. Matty Ice threw for 246 yards and a touchdown.
Vikings: The Norsemen stay in the hunt for a division title by humbling the Bears. Teddy Bridgewater threw for four touchdowns.
Patriots: Tom Brady yada… yada… yada… brittle Marcus Mariota coach killer…
Stinking Panthers: Yes, Cam Newton sewed up his MVP race. With just over a minute left, Newton drives the Stinking Panthers down the field for a game-winning field goal and the unbeaten streak remains intact.
Redskins: Kirk Cousin went wild. He threw for 319 yards and four touchdowns against Buffalo to keep a foothold on first place in the NFC East.
Packers: Aaron Rodgers had a pedestrian day in Oakland with 204 yards and a touchdown but the Pack locks up a playoff berth.
Seahawks: Seattle clobbered Cleveland largely thanks to Russell Wilson. Wilson became the first quarterback with three or more touchdown passes and no picks in five consecutive games.
Chargers: In what may be the final NFL game in San Diego, Philip Rivers threw for three touchdowns and 311 yards to pummel the Dolphins.
Bengals: The Andy Dalton-less Bengals won in San Francisco thanks to running back Jeremy Hill's two touchdown catches.
Cardinals: Arizona dismantled the Eagles in every way possible. Of course, it helps to throw at Eagles corner E.J. Biggers.
Random Thoughts
* How messed up is it that Nkemdiche fell out of a fourth-story window loaded with pot? Dude is lucky he is still alive. No Sugar Bowl for you! Joe fully expects this guy to drop in the draft. If you are dumb enough to almost fall to your death at a party, pockets full of weed, then you are dumb enough to do other things. The Bucs have enough young problem children on the team already as far as immaturity. Is this Nkemdiche smart enough like Jameis to learn to grow up once he gets into the NFL?
* Joe will write more about this in the coming days. This Mario Williams saga in Buffalo is intriguing as hell. Dude apparently is fed up with Capt. Lou Albano and wants out of Buffalo bad. Williams is due an insane amount of money ($14 million with bonuses per Rotoworld.com) for 2016 for a guy that had only four sacks. Throw in the fact Williams has become a pain in the arse for Albano, it's easy to believe he will be cut. Since his second year in the NFL, not counting an injury-shortened season in 2011, Williams has had no less than 8.5 sacks until this season, when forced into a 34 scheme. From 2012-14 Williams had double-digit sacks including 14 in 2014. As painfully desperate as the Bucs are for help at defensive end – remember they flirted with dirtbag Greg Hardy – Joe has to believe if available, the Bucs would be players for Williams.
* Even if the Bucs would sign Williams, that doesn't mean they shouldn't draft a defensive end high in the draft. Williams will be 31 in a few weeks, clearly closer to the end of his NFL days than the beginning.
* Of course the Bucs need to draft and sign a boatload of secondary help. People rag on Hey Jude for getting basted like a holiday ham, but there is a reason the dude was an undrafted free agent. What do you expect, Darrelle Revis? Oh, wait…
* As for Doug Martin, Joe would be shocked if he is not in a Bucs uniform next season. Remember, the Bucs have the franchise tag hammer to use. And they could use it again after the 2016 season, provided Martin has another solid season. By all accounts, the Bucs are giddy with how Martin has performed this season playing for Dirk Koetter and with Jameis. Let's say the Bucs do use the franchise tag twice on Martin, after the 2017 season, Martin will be 29. We all know what happens to 99 percent of running backs when they reach 30 (those not named "Adrian Peterson.") Joe not only expects Martin to return in 2016, but if he has another good season, return in 2017.
 * So Michael Bennett, who the Bucs let walk for no good reason, now has 9.5 sacks for the Seahawks. Doesn't this make you want to punch somebody?
* Will Grier transferring from Florida? First he Pearl Harbors the season for the Gators now he tells them to urinate up a rope. Something stinks here.
 * When did Jeff Driskel become Dan Marino? Was it that for Gators cheerleader who raised his game?
* Sorry folks, there is no such thing as too many bowls games. Come eight weeks, and we will be begging to watch football games with two losing teams playing each other.
 * Cardinals manager Mike Matheny is not b!tching publically about overrated Jason Heyward leaving the Cardinals because Heyward thinks the Redbirds are due for a downturn in fortunes. So what? No need to get all bent out of shape. He left. He's gone. Move forward.