Pay Attention, Jason Licht!
December 21st, 2015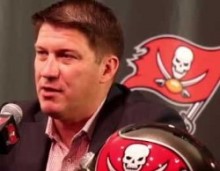 Joe is absolutely loving what the Steelers are doing with their explosive offense, highlighted by absolutely shredding the vaunted Broncos defense yesterday.
The Steelers have a franchise quarterback, a solid offensive line, and four legitimate receiving threats. What a concept!
Joe hopes the Steelers win the damn Super Bowl, supporting the theory Warren Sapp has repeated many times: Defense doesn't win championships anymore.
Joe looks at Steelers wide receivers Antonio Brown (sixth-round pick in 2010), Markus Wheaton (third-rounder in 2013) and Martavis Bryant (fourth-rounder last year), plus reliable tight end Heath Miller, and Joe hopes Jason Licht and Lovie Smith are paying attention.
Neglecting America's Quarterback, Jameis Winston, in the 2016 offseason would be a crime against Bucs humanity. Sure, the Bucs have serious defensive deficiencies, but not making conditions ideal for your franchise quarterback would be ludicrous.
Perhaps a Steelers glory year behind a high-flying offense would help drive that point home.
Consider the Bucs' receivers: Mike Evans is a good player with issues. Father Time is ravaging Vincent Jackson. Louis Murphy just had his knee carved up. Donteea Dye would struggle to make any other NFL roster. Russell Shepard can't beat out Dye. And Adam Humphries is a wonderful story, a quality No. 5 NFL receiver. Kenny Bell? He didn't catch a pass in preseason.
At tight end? Well, the Bucs don't have anything that resembles Heath Miller or a top-15 tight end.
Better depth at receiver, as well as better hands, likely would have put the Bucs in the 2015 playoff hunt right now. Joe has no problem claiming drops, incapable replacements and garbage tight end production cost the Bucs two games this season.