What's The Fix For Mike Evans?
December 13th, 2015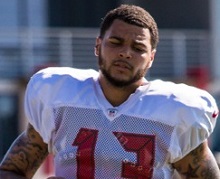 Radio listeners to Joe and Steve Duemig on WDAE-AM 620 last week heard Joe warn that a lunar eclipse was coming today, one that would cause Mike Evans to drop more balls and make foolish decisions.
It was sarcasm, but it was based in a harsh reality for the Bucs.
Predictably maddening Evans was back again today doing what he does best, driving Bucs fans crazy with jelly hands and a loss of control.
In the fourth quarter against the Saints, Evans played more like Gabrielle Reece. And how bout those back-to-back penalties to kick a Bucs drive in the groin?
Evans is the 2014 No. 7 overall pick, a guy 29 games into his career. He's not a rookie any longer, and he shouldn't be playing the part of a hotheaded Michael Clayton.
It's a serious question for the Bucs as they prepare for the 2016 NFL Draft. Do the Bucs trust Evans to be their No. 1 receiver? The guy America's Quarterback, Jameis Winston, will rely on for the next eight or 10 years?
At this emotional moment, Joe believes receiver has to be an offseason priority for the Bucs.