Rampant Depression
December 13th, 2015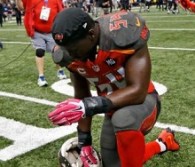 Man, Joe hasn't seen a Bucs' postgame locker room that depressed in a while.
Moments ago, Joe asked starting right tackle Gosder Cherilus a simple and reasonable question, and Cherilus politely replied, "Does it really matter?"
That was the end of the conversation. In fairness to Cherilus, he was sort of on the money. The Bucs just got stomped by the Saints in their own house. It was an unexpected beating by a bad team. The loss crushed the season. Anything else is just hot air.
Bruce Carter waved off Joe and other reporters. The plenty of players who spoke were sullen, as if their spirit was crushed.
With a game next on Thursday night in St. Louis, Gerald McCoy emphasized how critical it will be for the Bucs to wipe away this defeat much faster than usual. The mindset has to flip much faster, McCoy said.
Joe hopes the Bucs can recover.
The last time a Lovie Smith Bucs team had to shake off a loss for a road Thursday Night Football game, they trailed 56-0 after three quarters.