"Very Flat" Again Says Lavonte David
December 18th, 2015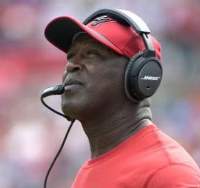 Bucs fans deserve a football team that plays hard consistently.
The Bucs are a joke in that department. They really are.
Raise your hand if you think the Bucs were the most physical team on the football field last night, or against the Saints? They weren't. And that's disgusting.
Joe's got a damned good memory. Do you remember what Alterraun Verner said was Lovie Smith's focus this season when the team arrived back in April? It was about being physical.
Bad football players can play hard and lose. That's one thing, but the Bucs are lacking in effort. Derrick Brooks himself acknowledged collective effort after Sunday's Saints game, during his appearance with Steve Duemig on WDAE-AM 620.
Joe's getting tired of it. It's not all the Bucs, but too many of them are not playing like the "angry workers" Raheem Morris used to say he craved.
Lavonte David really made Joe extra ill after the game last night. David hopped on the Buccaneers Radio Network and lamented how the Bucs came out "very flat" in St. Louis. David and many other Bucs used the same "F" word after Sunday's Saints loss.
"Starting out the game very flat defensively. Uch, just playing bad football," David said. "You know, it's very disappointing because I know it's not the way we play football. And that's just one thing about it; it's two weeks in a row."
How does a Bucs team at 6-6, a team with a real shot at the playoffs, line up against two bad football teams and get bullied and look unready for prime time?
You can hear all of David via the 620wdae.com audio player below.