Right Move Is Starting Mike Glennon In Finale
December 29th, 2015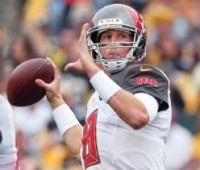 There is one absolute reason Lovie Smith will return next season. It is because Lovie has done a masterful job developing and managing America's Quarterback, Jameis Winston.
And that great job should not end now.
Lovie was part of the strong Bucs crew that waved off massive pressure to draft Marcus Mariota, and Lovie refrained from the stupid games many coaches would have played with a 21-year-old rookie like Jameis. Instead, Lovie handed Jameis the ball and let him be himself, all while giving him regular guidance, tight management, and the freedom to fail.
Be in denial if you wish, but many head coaches would have screwed that all up.
Today, the Buccaneers should be all about Jameis and what sets him up for lasting success, which will mean team success.
And it is with that reality Joe is demanding that the plug gets pulled on Jameis' season. Mike Glennon should start Sunday in Carolina. Putting Jameis in front of the Carolina defense (or any defense, really) is nothing more than taking a needless risk, an ego-driven play to get to 7-9, as if that will change anything.
Joe would feel a little differently if Sunday were a home game, like maybe the Bucs should play Jameis to give the home crowd the proper respect. But this is no home game.
Simple as that, as Lovie would say. Playing Jameis on Sunday is pointless.
Jameis took 11 hits in St. Louis on the turf. Some of them were vicious. He took shots Sunday against the Bears, one that clearly affected his play. He also started the season with a messed up ankle. Let Jameis stay healthy. There's no shame there.
And then there's Glennon. Joe has long been a supporter of trading Glennon for a coveted draft pick. Playing Glennon on Sunday could catapult his value on the trade market. Remember Matt Flynn 2012? In this crappy quarterback market, even a decent afternoon by Glennon might start a bidding war.
It's a gamble Joe's willing to take. Why? Because it's no gamble when it spares Jameis risk.
Hey Lovie, Jason Licht and Team Glazer, you want to risk Jameis for no good reason? Don't expect Joe or any smart fan to be understanding if something goes wrong.