Sellout Expected Sunday Versus Saints
December 9th, 2015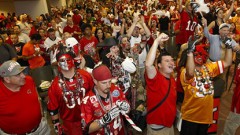 Good news for Team Glazer and, hopefully, Bucs fans.
On the Buccaneers Radio Network tonight, host T.J. Rives said multiple times that a limited number of tickets remain for Sunday's game against New Orleans and a sellout is expected one Dale Mabry Highway.
When the game might sell out was unclear, but the message from the Bucs' official voice was clear: it you want a ticket, then you might not be able to buy one on game day from the box office or Ticketmaster.
Yes, Saints fans have traveled well to Tampa in previous years, but with their team in the toilet of the NFC South, Joe's going to think positive.
Maybe, just maybe, Bucs fans are rising up to salute (in person) America's Quarterback, Jameis Winston, and the NFL's ninth-ranked offense, the Bucs' offense.