"Rickety" Description For Doug Martin
December 2nd, 2015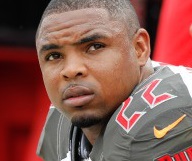 Doug Martin's agent won't like the recent depiction of his client by Buccaneers head strength and conditioning coach Dave Kennedy.
Martin has plenty of wear and tear on his nearly 27-year-old body. In addition to 782 career carries and 96 receptions, Martin has fought through shoulder surgery, and knee, ankle and hamstring issues.
Martin is healthy now but takes a "tremendous pounding," per Kennedy.
"I see him come in [Monday] after playing [Sunday], and being a little rickety when he comes in, being a little stiff, being a little beat up," Kennedy said. "And then doing what he has to do the day after to speed up his recovery for next week. You know, our goal is not for him to feel great on Wednesday's practice, to practice Wednesday, but to feel great on Sunday. So we're in a constant communication, 'Where are your legs? How does this feel?'

"Because he does take a tremendous pounding. And he runs really, really tough. He dishes it out and takes some shots."
Martin could be looking at 900 career carries by the end of this season.
Will the Bucs invest heavily for another 600? Or another 900?