"Never Heard Of Him Until I Got Here"
December 2nd, 2015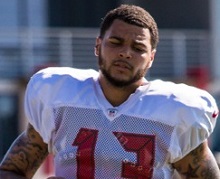 Sadly, Joe is old enough to remember former Bucs quarterback Doug Williams wearing orange for Tampa Bay in the NFC Championship game and later winning a Super Bowl with the Redskins.
But most Bucs players aren't really familiar with the man going into the Ring of Honor on Sunday.
Today, Joe asked 22-year-old Mike Evans if he ever heard of Williams growing up, and Evans said, "I never heard of him until I got here."
Other Bucs had the same response, though America's Quarterback, Jameis Winston, long has been an admirer of Williams, and the two are friends.
Another Buccaneer actually is very close with Williams and has been for years. Joe will write that touching story later today.