"Frustrated" Koetter Shaken Off His Game
December 2nd, 2015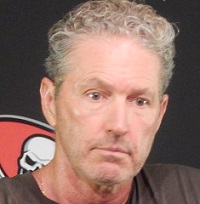 The Bucs' offensive coordinator was his usual candid self before Joe and the media throng at One Buc Palace this afternoon.
Koetter talked about how the loss to the Colts was "a game of missed opportunities," But Koetter got past the clichés and explained that the Bucs lost some focus in the second half.
"Me included, we all got a little bit frustrated, maybe got away from what we should have been doing," Koetter said. "I probably should have ran the ball more after those first two series [of the second half]."
Yes, let that close the book on Doug Martin getting just three carries after his explosive run late with about 19 minutes left in the game and the Bucs leading. Koetter shouldn't have taken one of his top weapon out of the game; that should have been the Colts' job.
Koeter went on to say pressure from Colts wasn't anything unusual, just that the Bucs' inability to handle it was
"We got out of wack," Koetter said.