Mental Weakness Troubles Derrick Brooks
December 18th, 2015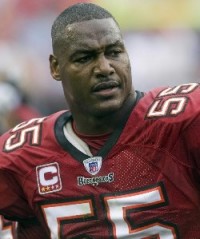 Bucs godfather Derrick Brooks saw some things he didn't like last night while watching the Buccaneers — and it wasn't just the final score.
In a rare treat for Bucs fans, the iconic Brooks joined Steve Duemig this afternoon on WDAE-AM 620. It's rare to hear Brooks talk about a Tampa Bay game so quickly after the completion.
Brooks sees unacceptable mental weakness in the Bucs.
"You gotta stop the penalties. You got to, as players, stop putting the team in positions because you're not mentally tough, with some of these penalties," Brooks said. "Some of the penalties last night was not performance-based, attitude-based. And not showing the type of football IQ you would expect after 20 weeks of football, [including] training camp and OTAs.

"You expect the football IQ to be a little bit better. You expect the consistency would be a little bit better. As I sit there and watch the game and say, 'The only thing were consistent at is being inconsistent.' And that's not fun to say."
Brooks went on to say too many Bucs are playing with the wrong attitude.
He seemed particularly stunned by three plays: Donteea Dye not finishing his catch and tossing the ball into the air before the whistle blew;Austin Seferian-Jenkins tossing the ball out of the end zone because he was upset after getting called down at the Rams' three-inch line; And the Bucs not showing enough want-to and allowing Rams defensive tackle Aaron Donald to blow up a 4th-and-1 run easily.
As for that undeveloped football IQ, Joe likes to call that stupid and uncoachable. Lovie Smith hasn't gotten through to some of his players in two years. Those guys needs to hit the road since they can't play under Lovie.