Lovie Says Mark Barron Is A Huge Threat
December 15th, 2015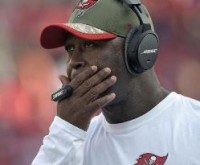 Somewhere, former Bucs rockstar general manager Mark Dominik is smiling.
Ex-GMs love to cheer for their former players. And why not? Those players are sort of living, breathing resumés. Their past picks and signings can make them look awfully good — or bad.
Rams hybrid linebacker Mark Barron is one of those guys for Dominik. He and Greg Schiano made Barron, then a safety out of Alabama, the seventh overall pick in the 2012 NFL Draft.
Barron was ok under Schiano, underwhelming but developing. Lovie Smith came in and had no use for Barron after getting a long look at him. Jason Licht dealt Barron to the Rams last year at the trade deadline for a fourth-round and sixth-round picks.
Outspoken Bucs icon John Lynch called the trade a "colossal failure" by the Bucs. Lynch had plenty of faith in Barron and didn't get the decision.
Barron struggled in St. Louis during the second half of last year, but he awakened big time in 2015.
Barron is now the Rams' leading tackler (even ahead of stud LB James Laurinitis) in his new hybrid linebacker/safety role, and some folks out there think he should be a Pro Bowler. Barron has one less solo tackle than Lavonte David, and one more forced fumble.
Hey, good for Barron. Joe had no problems with the trade, though it's interesting to watch the Rams figure out how to maximize Barron's talent.
Ironically, Lovie Smith cited three dangerous Rams on his Buccaneers Radio Network show last night: rookie running back sensation Todd Gurley, sackmaster defensive tackle Aaron Donald (11 sacks), and Barron. Hell, Lovie wasn't even asked about Barron!
Big-hitting Barron has been covering his share of tight ends this year. Joe sure hopes Austin Seferian-Jenkins' shoulder is stable.
Man, what a stunner it would be if the Bucs' first three picks in the 2012 NFL Draft, Barron, Doug Martin and Lavonte David, were made the Pro Bowl this year. What a menace that Dominik was!