"Mentality" Was Lacking
December 2nd, 2015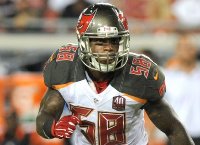 So what went wrong with the Buccaneers' defense Sunday?
Plenty of opinions are swirling, and one belongs to starting middle linebacker Kwon Alexander.
"We wasn't on our keys," Alexander told WDAE-AM 620 of the failures in Indianapolis. "We wasn't playing like we was playing the last two weeks. We just got to get back this week and have the same mentality we had [against the Cowboys and Philadelphia]."
Joe is always troubled when he hears players talk about a shaky "mentality" in a critical game, a game in which the team was leading at halftime.
Yesterday's chat with Alexander is below via the 620wdae.com audio. Kwon would not comment on his looming suspension for using a performance enhancing substance.