$100 Million Stadium Upgrade Coming; Preseason In 2016 & 2017 Will Relocate
December 2nd, 2015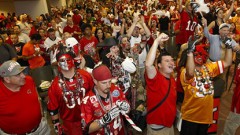 Big time changes are coming to the Stadium on Dale Mabry Highway.
The Tampa Tribune reports that the Bucs, Hillsborough County, the city of Tampa and the Tampa Sports Authority are all in a happy place and approval of a $100 million upgrade to the stadium is imminent.
The expected $100 million investment will result in two new end zone video boards of 9,600 square feet each — a large difference from the current 2,200-square-foot boards. New 2,200-square foot video boards would be placed in the four corners of the stadium.

The total of 28,000 square feet of video would put Raymond James near the top of the NFL stadium hierarchy. The video boards and a new "state-of-the-art" sound system are to be ready for the College Football Championship game that will be played in Tampa on Jan. 9, 2017.
Also noted in the report is that Team Glazer will kick in more than half the cost, and the Bucs will relocate preseason games in 2016 and 2017. Allegedly, construction will take place during August of those years, so the games have to move.
There's more in in the link above. Click on through.
This is great news for fans, except fans of preseason games. Joe suspects the Bucs will play at least half of those relocated preseason games in Orlando, where the team has expanded its marketing efforts significantly. The gorgeous renovated Citrus Bowl is a likely option.