Doug Williams Talks About Team Glazer Influence On No. 1 Overall Pick
December 2nd, 2015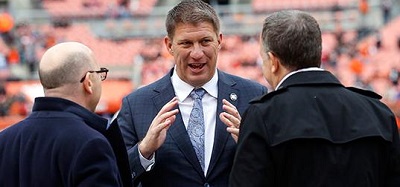 Doug Williams played for the Bucs, worked for the Bucs, was promoted to Tampa Bay coordinator of pro scouting under former general manager Mark Dominik, and will be enshrined into the Buccaneers Ring of Honor on Sunday.
So it's a safe bet that Williams has a solid handle on all things Team Glazer.
Williams dove into the pre-draft mindset of Team Glazer during a visit to the Buccaneers Radio Network last night.
"Knowing the Glazers, there is no way in the world Jamey Winston would have been their No. 1 pick if they didn't think highly of the guy," Williams said. "And I think at this point he is really doing them proud."
Yes, Williams refers to Jameis Winston as "Jamey." It's been well documented that the two have a close relationship.
After describing Jameis as "a gym rat," Williams said Team Glazer knows if it stocks good talent around Jameis, then good things will happen.
Any reference to the activities of Team Glazer and the Bucs' roster is interesting. So if Team Glazer needed to think highly of Jameis to bless his drafting, then what happens when they don't think highly of a player?