"Frustrating" Penalties
December 4th, 2015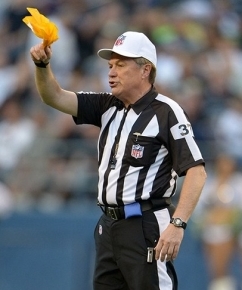 Twelve penalties helped sink the Bucs in Indianapolis.
By Joe's quick count, penalties were responsible for eight lost points (field goals on potential touchdown drives that were stunted by penalties).
Yesterday, Bucs coach Lovie Smith talked about the team's return to stupid penalties after almost turning the corner.
"The frustrating part is the fact that they are pre-snap penalties," Lovie said. "We talk about how important it is for us not to give a team first-and-10, first-and-5, and third-and-5 becomes a first down. To see it happen again on Sunday, after going two ball games where we had one penalty per game on defense the last couple weeks prior to the Indy game, was a little bit frustrating.

"Hopefully we can get past that. We don't need to do anything to give [an opponent] second-and-shorts or third-and-shorts as a defense. It's something we're talking about. We're trying to handle, and hopefully it will show up this coming Sunday."
This crap has to come to an end now!
Joe doesn't see any blowout games for the Bucs the rest of the way. If this team wants to make a playoff run, then it has to keep its collective head out of its rear end.
Penalties in close games are suicidal. Generally, dumb teams don't make the playoffs, and most penalties are as a result of not using your head.