Vincent Jackson Done For Season
December 30th, 2015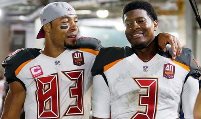 Vincent Jackson will end his season on injured reserve with a knee injury.
The Bucs released the news today.
Now it's decision time. Jackson, who turns 33 in a couple of weeks, is due about $10 million next season. That's a big price tag for a No. 2 receiver, but the Bucs won't owe him any money unless he's on the September 53-man roster.
Jackson finished this season with 33 receptions for 543 yards in nine starts.
Joe would love to see Jackson return, if healthy. There's been no official discussion of the extent of his knee injury.
Reality, though, must be considered. The Bucs should be studying free agency deeply for a quality complement to Mike Evans. There's no reason to think Louis Murphy, coming of November ACL surgery, would be that guy.