What Jameis Winston Was Doing At 5:30 A.M.
November 30th, 2015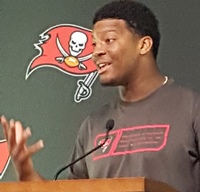 NFL Network insider/reporter Ian Rapoport shared quite a nugget on Twitter yesterday morning.
Per Rapoport, America's Quarterback, Jameis Winston, is the first Buccaneer to arrive for work daily, and Jameis is lifting weights at 5:30 a.m. on Monday mornings at the team facility.
Rapoport finds it noteworthy that these facts seem to clash with "pre-draft talk" about Jameis. Rapoport must have been listening to Peter King and other national types who were painting Jameis as a potential problem and, certainly, a healthy notch below Marcus Mariota.
Joe wonders who will be the wise Bucs player to approach Jameis and demand to know his work schedule and insist on matching him stride for stride.