McCoy Notches Sack No. 7
November 30th, 2015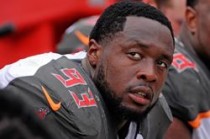 Lost in the Bucs' anemic pass rush yesterday was frequent fan punching bag Gerald McCoy recording his seventh sack of the season — with five games to play.
McCoy ranks tied for 10th in the NFL in total sacks, and he's tied for second among defensive tackles. Bengals star Geno Atkins has eight. Young Rams beast Aaron Donald also has seven.
For those wondering, Ndamukong Suh, the defensive tackle drafted one spot ahead of McCoy in 2009, has four sacks this season.
McCoy also anchors the best run defense in the NFC. The Bucs allow just 3.5 yards per carry to top the conference. That was on display big time yesterday, when the Colts had just 27 yards on 26 carries.
Joe sure hopes McCoy finds his way to 10 sacks, which would make him the first Buccaneer to hit double digits since Simeon Rice 10 years ago. That should shut up a few haters.