Lovie Needs Just One More
November 30th, 2015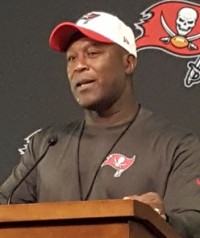 It's a little too easy to find Lovie Smith bashers, guys steadfast in their belief that Smith is just a placeholder for a head coach who can get the Bucs back to the promised land.
These types look at Lovie's 7-20 record as Tampa Bay head coach and start turning red and screaming.
Joe is not in that camp, but Joe also is not a guy who will claim winning isn't important, or claim that playing in close games means anything.
Just like 90 percent of Mike Evans' job is to catch footballs, 95 percent of Lovie's job is to win games and get the most out of his talent. Lovie hasn't done that yet.
So Joe firmly believes that Lovie needs one more win this season to preserve his job for 2016. Ending this season on a six-game losing streak should not cut it. It should not be acceptable.
Is Joe setting the bar too low? No. Joe predicted a six-win season. Lovie entered 2015 with loads of question marks at crucial positions, including (but certainly not limited to) quarterback, left tackle, defensive end, running back, returner and middle linebacker. Lovie appeared to have the makings of a six-win team.
Most of those questions have been answered positively, and the Bucs should get to those six wins easily. Joe fully expects it to happen next week.
But if somehow Lovie can't find another victory, then his arrow will be pointed straight down. At that point, his only hope to staying employed could be America's Quarterback, Jameis Winston.