"We Have A Profile"
November 18th, 2015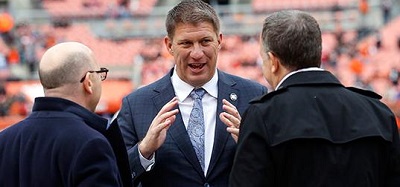 A little light was shed into the secret world of the Buccaneers' personnel decisions this week.
Hardcore Bucs fans are obsessed with who makes the decisions at One Buc Palace when it comes to players.
Joe knows people who still receive psychological counseling because they can't stop focusing on who the hell let Michael Bennett walk out the door for no good reason.
Bucs general manager Jason Licht once told the world last year that there was total personnel consensus at One Buc Palace. But take a deep breath and ask yourself, 'What the hell did that really mean? And how could that happen among intelligent individuals, seemingly privy to Josh McCown's game film of the last dozen years?
The truth lies somewhere in a cone of silence at One Buc Palace, and in most organizations.
GM's serve a head coach. There's little point to bringing in a player the coach doesn't like, or that won't fit the coach's plan. But the majority of coaches also have neither the time nor the skill to be personnel gurus.
Speaking on the Buccaneers Radio Network on Monday, Lovie praised Licht and his "outstanding" personnel department and their various moves, citing acquisitions of Joe Hawley, and rookies Jude Adjei-Barimah, Howard Jones, Adam Humphries and Donteeya Dye.
"We're on the same page as far as what type of personnel. We have a profile that we have for every position," Lovie said. "And again, we're all on the same page with that, bringing in those type of guys."
The implication was that Lovie and Licht have a checklist for every position, and it's Licht's job to bring in those guys and Lovie, of course, picks who plays.