"Practice, Was Very, Very, Very Fast-Paced"
November 19th, 2015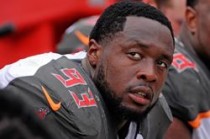 Gerald McCoy and Lavonte David were on the field the last time the Bucs played the Eagles and Chip Kelly, when Tampa Bay fans endured and absorbed one of the most punishing and stunning displays of football dominance.
Playing in Tampa in 2012, the Eagles had the ball with 8:03 remaining in the fourth quarter leading 28-20. Philly proceeded to run the ball 11 consecutive times up the gut of the Bucs' defense — 11 in a row! — to set up the game-icing field goal with 2:34 on the clock.
That was the NFL's No. 1-ranked run defense back then, and the Bucs now have the NFC best run defense, allowing just 3.6 yards per carry. Joe's point is that Philly can beat a team all kinds of ways.
The Eagles' offense also still cranks out a stunning number of plays, taking the game to defenses.
Yesterday on the Buccaneers Radio Network, Gerald McCoy said the Bucs' Wednesday "practice was very, very, very fast-paced" in preparation.
"It might not be as fast as it has been in recent years," McCoy said. "But they are definitely going no-huddle and up-tempo for sure."
Joe isn't too worried about the Bucs' defense getting gassed. They're very young, and the game's weather forecast (45 degrees and sunny) should be ideal for keeping fresh legs. Hopefully, America's Quarterback, Jameis Winston, and the Bucs' offense can keep avoiding 3-and-outs like they've done wonderfully all season — and put some points up.