"You Don't Want To Tell Him, 'Hey, Hey, Hey, Relax.'"
November 19th, 2015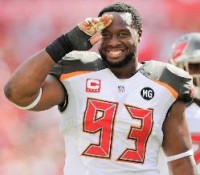 The last thing your Tampa Bay Buccaneers need are clashing egos in the locker room.
So it was great to hear the former face of the franchise, Gerald McCoy, talking about America's Quarterback, Jameis Winston last night. A fan asked McCoy on the Buccaneers Radio Network what he thinks of Jameis' renowned postgame speeches and antics in the Bucs' locker room Sunday.
McCoy likes and respects the authenticity.
"Jameis is a passionate guy," McCoy said. "So once he gets going, you just kind of let him go. (laughs) You know, you don't want to tell him, 'Hey, hey, hey, relax.' You know, He's one of the those guys; when he gets going, you just get out of his way and let him go. And when he's finished, he's finished. But he has to get out whatever he's feeling.

"It was one of those instances when he was overwhelmed with emotion. He was excited. I mean, that's just who he is. So when he gets in those modes, we just get out of his way and let him do his thing. I mean, because what he said is true.

McCoy went on to say Jameis' preaching was on point and it was not out of character.

"He's a funny guy. He really is. He's always [enthusiastic and energetic,] McCoy said.
It was great to hear McCoy bless Jameis.