Initial Call On Vincent Jackson Was Out Six Weeks
November 4th, 2015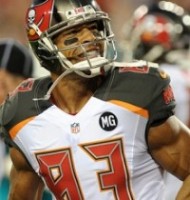 The Bucs have been very quiet on the extent of Vincent Jackson's knee injury since he got hurt 10 days ago in Washington.
Joe tapped his sources, did some digging and got some answers.
Very rarely does Joe use unnamed sources to break news, but this is one of those times. Joe has learned that the initial prognosis for Jackson's return to the lineup was six weeks. Whether Jackson's return timetable has been accelerated is unclear.
Friday on the Buccaneers Radio Network, Jackson offered no injury details other than to say he's improving and the injury resulted from an unfortunately low shot by Dashon Goldson, a byproduct of NFL rule changes Jackson doesn't like.
Joe also has learned that Jackson's eight-figure contract for next season has no injury guarantees. So don't expect the Bucs to keep him out of the lineup for fear of injury.
Joe wishes Jackson a speedy return.