Vincent Jackson Details His Injury, Fingers Hawk & NFL Rules
October 31st, 2015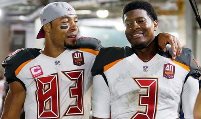 Last night, Vincent Jackson spoke out and detailed his status, and shared his distaste for NFL rules that likely left him with an injured knee.
"You know what, I'm doing all right. It's unfortunate, you know what I mean, one of those injuries that's just kind of a bad shot, an unfortunate angle the way I was tackled," Jackson told the Buccaneers Radio Network. "But that's football. Those things happen, but I felt good this week. I started to feel like I'm recovering already. Obviously working with our training staff, you know, working to get back and get my strength and everything back up. I think I'm doing pretty good."
Jackson explained that he tried to return a few plays after his first-half injury in Washington but felt like he couldn't help the team.
Ironically the injury came from a guy who once never would have considered hitting him low. Redskins leading tackler and former Bucs captain Dashon "Hawk" Goldson was the guy who drilled Jackson.
"[Dashon Goldson], aims a little bit lower target than most guys," Jackson said."But there's been such a big rules and fines and things going on in the NFL about targeting and hitting at the shoulder and head area, you're starting to see more and more defensive backs go lower, kind of aiming at the belt buckle or lower, which is unfortunate. I think you're starting to see a lot more injuries coming from that.

"It's tough. I look at the play, and it's like, 'Man, could he have aimed higher?' Of course. But I have nothing against Dashon. I respect him as a player.Would I rather take one in the chops? Absolutely. I'd rather take one in the chops every day instead of getting one like that low where you can't see it coming at protect yourself."
Joe is left shaking his head. Hollywood couldn't write a script like this, with Goldson taking out Jackson with a low shot, forcing the Bucs to scrap half their plays with Louis Murphy also lost to a knee injury early in the game.
Regardless, listening to Jackson last night, it sure seemed like he will not play Sunday.