Will Tennessee Make A Play For Dirk Koetter?
November 26th, 2015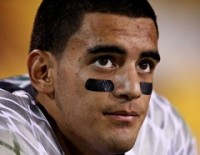 If you were Tennessee Titans ownership, a team that just drafted Marcus Mariota and dumped its head coach, who would you want to be your next quarterback-guru-in-chief?
Bucs offensive coordinator Dirk Koetter would have to be on your short list.
And this is why Joe can't sleep at night without Valium, Southern Comfort, or the comforting and distracting cleavage of a giving woman.
Keep your head in the sand if you wish, but a bunch of NFL coaches will be fired in 39 short days. And Tennessee and Miami already have canned their head men.
Koetter, 56, will be at least a warm candidate after the job he's done this season with America's Quarterback, Jameis Winston, and the Bucs' offense, in addition to his resumé of success with Matt Ryan and David Garrard.
There's a real urgency here for the Bucs to make sure Koetter doesn't get away. Jameis losing his offensive coordinator is unthinkable. And unless Koetter gets the "Assistant Head Coach" label on his contract, then he can interview and negotiate for any NFL head coaching job.
Team Glazer needs to swoop in and entice Koetter with their checkbook. Simple as that, as Lovie Smith likes to say.
Remember, Koetter already has explained that his wife likes to spend money. Perhaps he — and she — can be enticed.
Think Doug Martin is the Bucs' most important potential free agent? It's Koetter, not Martin.