Bucs Add To NFC Best Run Defense Numbers
November 15th, 2015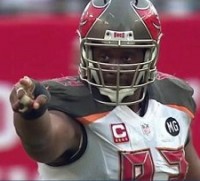 Where was that allegedly mauling Cowboys offensive line? A line that was anchoring a hot running game and the NFL team leading the league in time of possession.
It wasn't happening today.
Folks dared to fire darts at Joe this week when Joe wrote that the Bucs had the best run defense in the NFC. The Bucs entered today's game allowing just 3.7 yards per carry, best in the conference.
Well, those numbers got better this afternoon. Dallas managed just 42 yards on 21 carries.
There's a real difference with Akeem Spence back in the mix, and Will Gholston is a load in the run game, even if he can't rush the passer.
There's also some guy named McCoy in there, a guy end