Two Wins For Jameis: One For Marcus Mariota
October 11th, 2015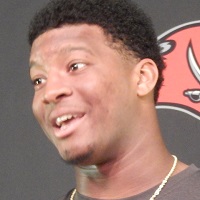 Where would Marcus Mariota be if he didn't get to play against the porous Tampa Bay defense? He'd be winless and sucking his thumb somewhere.For those keeping score, and you know you all are, Jameis Winston, America's Quarterback, tasted the sweet nectar of victory today, his second win of the year.
Mariota? Well, he's got just one win after getting outdueled by Buffalo's Tyrod Taylor and the Bills this afternoon.
Mariota had one interceptions and no touchdowns.
Joe's very pleased Jameis bounced back today and showed the poise (minus one horrific decision that didn't show up on the stat sheet) necessary to win. Jameis wasn't forced, and largely was on target. Mike Evans sure didn't help him with a drop in the end zone.
America's Quarterback finished 13-of-19 for 209 yards and a touchdown.