Spence Back On The Roster
October 24th, 2015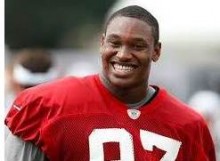 There's little public knowledge of the summer back surgery had by defensive tackle Akeem Spence (three sacks in 2014), but what Spence was a full-go at practice Wednesday and was activated today.
The Bucs cut current third-string center Jeremiah Warren, a preseason hero, to make room.
That move signals Evan Smith can play tomorrow. It's expected that Smith, returning from an ankle injury, will be the backup center in Washington.
Spence, a 2013 fourth-round pick, is a favorite of the Lovie Smith regime. They like his development, and Spence was a good fit as a rotational guy and spot starter in Lovie's defense last year.
Joe expects Spence to play tomorrow, even if it's just four or five snaps.
If he is indeed healthy, that gives the Bucs options to trade a defensive tackle by the Nov. 3 trade deadline. Veteran summer pick-up Tony McDaniel, a 2013 and 2014 starter for the Seahawks, would be a candidate.
UPDATE: On his Instagram account, Spence wrote he will be "back in action" tomorrow.