"I Get The Sense This Locker Room Understands That"
October 24th, 2015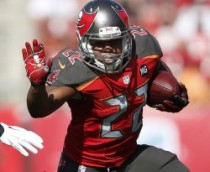 Joe loves these late October games that really mold an NFL season.
Take the Bucs against the Redskins on Sunday. It's a hugely pivotal game for both teams, and (gasp) the NFC playoff race.
Redskins beat writer Tarik El-Bashir, in this CSN Washington video, explains that he believes Redskins players comprehend a loss to the Bucs, and subsequently entering their bye week at 2-5, is a crisis situation in waiting. Beat the Bucs and go 3-4, well, that's a whole different world.
"I get the sense this locker room understands that," El-Bashir said.
That comment got Joe thinking about spending time in the Bucs' locker room this week. Do the Bucs understand how huge this game is for the them, a shot to go 3-3 and recapture local and national respectability?
Joe's not sure. Most Bucs seemed very loose and relaxed. Maybe that's a good thing.
One guy Joe can say seemed ready to run through a brick wall: Doug Martin. There's a fire in that guy this year.