"Crisis" And "Epidemic" Affect Glennon
October 24th, 2015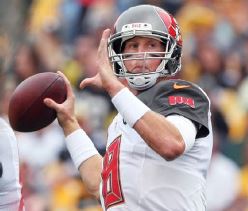 With E.J. Manuel, Josh McCown and Kirk Cousins starting at quarterback tomorrow, that's three QBs who aren't as good as Mike Glennon.
A few days ago on SiriusXM NFL Radio, former Super Bowl quarterback Rich Gannon went on a long rant about how the crappy quality of backup QBs across the NFL is a true "crisis" that's expanded into the starting ranks.
ESPN NFL insider Adam Caplan also was on NFL Radio today barking about the "epidemic" of terrible development of quarterbacks.
Caplan claimed team executives say it's a result of college spread offenses and drastically limited practice time in the NFL ranks since the new labor agreement of 2011.
So where does that leave the Bucs and Glennon, just 10 days before the NFL trading deadline?
If the Bucs really like Glennon, then one could argue the Bucs should keep him and try to lock him up to a long-term backup contract after this season. But if Glennon is any good, then why would he want to stay in Tampa, when he could have a shot to start somewhere else?
Ryan Fitzpatrick and Brian Hoyer are starters, too.
If the Bucs are in the playoff hunt at the trade deadline, then Joe suspects it would take a massive offer to get Jason Licht to trade Glennon. But if Tampa Bay is stuck at 2-5, then that's a different animal.
As Joe's written, the Bucs should take any solid deal for Glennon.
The Bucs aren't a Super Bowl team. Glennon's value likely is as high as it ever will be, with his Bucs contract expiring after the 2016 season. And he's unlikely to consider a new deal in Tampa, if Jameis Winston, America's Quarterback, is here.
The Bucs have a third QB on the roster, which is a rarity in the career of Lovie. Ryan Griffin must be well liked, otherwise he wouldn't be here eating up Team Glazer money and a valuable roster spot.
If Glennon is respected in NFL circles, then the Bucs should have serious contemplating in the coming days.