Pool-Diving Jason Licht
October 1st, 2015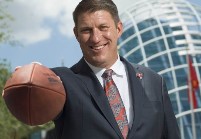 Wins come so infrequently around these parts of west-central Florda that Bucs fans often live it up when one happens.
In fact, Bucs AC/DC-general manager Jason Licht is no different. Of course, wins mean a whole lot more to him than to most fans, for obvious reasons.
So when the Bucs won their first division road game two weeks ago at New Orleans, Licht, in so many words, jumped for joy, as the BSPN tandem of Chris Mortenson and Adam Schefter relay.
Licht took off his tie and shoes, but jumped in the pool in his suit, just as he had promised.

"It was a moment of 'Yes!'" Licht recently recalled. "It was the best win I've ever experienced besides winning the Super Bowl with the Patriots. Just because it was coming off the first week of the season, when we knew that wasn't the team we had [in a loss to Tennessee].

"It was just great to see the young rookie QB [Jameis Winston] manage the game. Our entire town needed a win. It needs hope. And it gave us a lot of hope."
Licht did this to pay off a bet he had with his children. No word if AC/DC was blaring in the background when he dove into the pool.
Joe is just guessing that the way things have been around One Buc Palace the past two seasons, Licht will be more than happy to ruin as many suits in the pool as possible.