Peter King Calls For Loser Mentality In Tampa
October 28th, 2015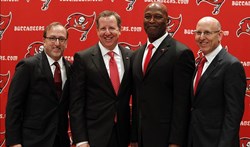 Joe has had enough of the backwards thinking of too many fans and media types when it comes to retaining an NFL head coach.
Continuity is terrific for building a winning football team, but continuity is worthless when the boss isn't performing and the employees aren't responding.
Coaches doing horrific jobs out of the gate for two years do not improve and win Super Bowls with their teams. It doesn't happen in the modern NFL. Keeping a proven loser coach around is just bad, bad business and a disservice to fans.
Joe's intentionally not being specific to Lovie Smith. Sure, this wise approach would apply to Lovie, if he can't right the Bucs' ship in the next 10 games. But Joe's really talking about the big picture for any team.
Head coaches performing properly see their teams grow over their first two years, and play competitive football consistently. If not, then giving that head coach a third year is just a terrible investment and a waste of fans' time.
It's much like re-signing a wide receiver for big bucks that has problems catching the football. (See 2009)
However, there are a various dreamers out there who don't get it, including Yogi Berra-worshiping, urinal picture-taking, video game-playing, Taylor Swift-listening, pickpocket-thwarting, Bucs-uniform-frowning, Allie-LaForce-smitten, Big-Ten-Network-hating, pedestrian-bumping, olive oil-lapping, popcorn-munching, coffee-slurping, fried-chicken-eating, oatmeal-loving, circle-jerking, beer-chugging, cricket-watching, scone-loathing, college football-naïve, baseball-box-score-reading, NPR-honk, filthy-hotel-staying, fight-instigating, barista-training Peter King, of Sports Illustrated and NBC Sports fame.
King's online mailbag today features a question from a Bucs fan wanting to know how long it will be until Lovie gets fired.
Here's an excerpt of King's long response:
… So here we are now, seven games into the era of a new quarterback and 23 games into the era of a new coach. And you want to start over. I'm not saying that Lovie Smith is certainly going to be the answer, and I'm not saying that he has had a great run so far in Tampa, but one of the problems that I see with teams that make coaching changes every two or three years is that you don't develop any patience. Tampa was never going to be a quick fix, especially with a new quarterback. So my advice would be, yes, it's okay to throw things at your TV when your team has a monumental collapse like the Bucs did on Sunday in Washington. But take a deep breath and understand that it is only going to get worse if you continue to jump from one coach to the next.
It's just silly talk to claim things will "get worse" in Tampa — or anywhere — just because there's a coaching change.
Four first-time head coaches in the NFL have soared recently. Todd Bowles and Dan Quinn this year, Bill O'Brien last year, and Mike Zimmer is thriving.
Joe hopes Lovie figures out his defensive mess and wins football games in a league built for parity. If not, then Joe is confident Team Glazer will not delay the inevitable.